About Me
About Me: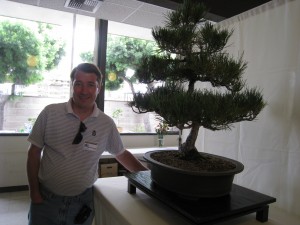 I am just a regular guy who grew up in Southern California, and fell in love with bonsai trees at an early age. I saw my first one when I was about seven years old. We lived in Carson, CA, and the local nurseries were owned by Japanese folks. Dad went to one looking for bedding plants, and I saw my first bonsais, and it was love at first sight. I saw more on a trip to San Francisco when I was eleven. From there my love affair took me to the local library, where I checked out and read every book I could find about bonsai — all three of them. One was the second edition of the Sunset bonsai book.
By high school I had my first attempt at bonsai that survived beyond initial repotting – it was a semicascade Prostrata Juniper growing in a wooden training box.
Higher education interrupted my love affair with bonsai for about nine years. Then one Christmas my sister went to a Japanese bonsai nursery and bought me my first real one. That was twenty years ago, and I still have it.
From there, a small collection of bonsais followed me from apartment to apartment, and when I got a place with a yard, the hobby took off.
By the late 1990's I was doing club demonstrations in Southern California. I had always wanted to do something on the Web, but the right technology did not yet exist. Digital cameras were very primitive, and uploading photos was a very cumbersome process. Video? Forget about it.
A few years ago, a friend showed me Youtube, and the possibility of fitting a bonsai demonstration into a ten minute video format intrigued me. Those early videos were frenzied affairs, shot without the ability to edit, and forced to fit everything into a ten minute time frame.
Over the years we've gotten better at it – better cameras, better sound, better lighting, better editing. The goal has always been to invite you, the viewer, into my yard, to show how a regular guy does bonsai.
Regards, Charles M
You can contact me at chasnsx@aol.com.