Chinese Elm Bonsai
Chinese Elm Bonsai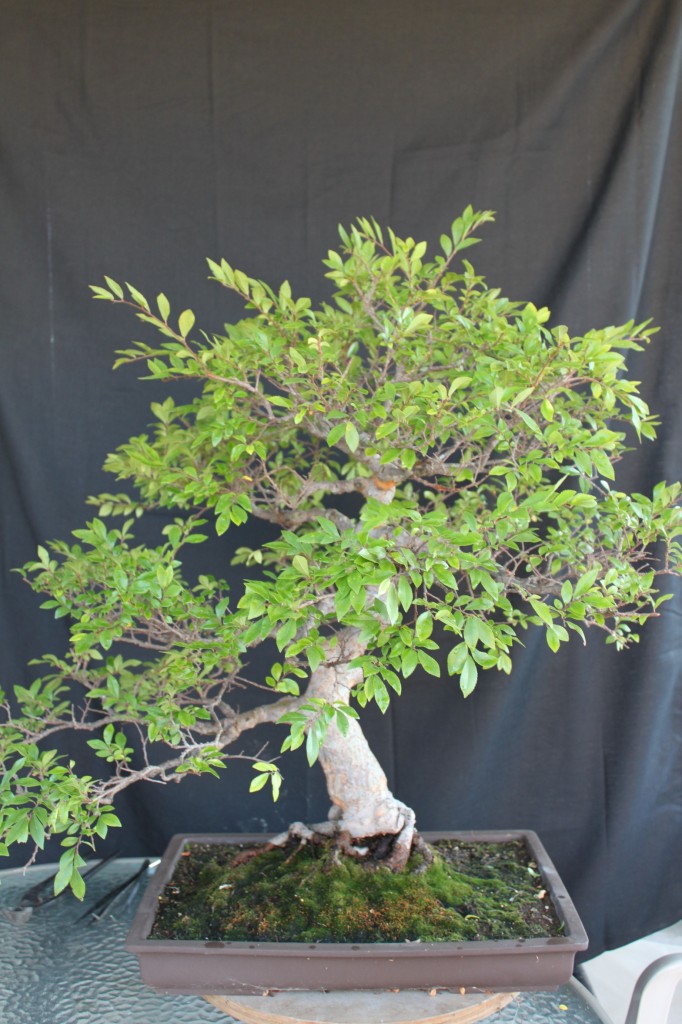 Chinese Elms are the undercover agents of the bonsai world. They are not a tree that one immediately thinks of when someone says "bonsai" yet they are very common as bonsai. At the same time, few world class bonsai are Chinese Elms. This is likely because few of them are collected from the wild for bonsai. Most Chinese Elm bonsai are either developed from nursery plants or grown from seed.
Chinese Elms are among the easiest of trees to grow as bonsai. They tolerate bad soil, overwatering, underwatering, and can grow in full sun or deep shade. With that said, they thrive when given good soil, regular watering, the right levels of fertilizer, and filtered sunlight or a shady place with bright sunlight nearby. This makes them a great tree for the beginner. Their small leaves, interesting bark, and a tendency to branch densely when pruned make it easy for even a beginner to create a great bonsai from a Chinese Elm.
Background:
The Chinese Elm, Ulmus Parvifolia, is a smallish (30-60 feet when mature) deciduous or semideciduous tree native to China, Japan, Taiwan, Vietnam, and North Korea. It does not have any known commercial uses, other than as an ornamental landscape tree. For that purpose it is very popular, and as a result of this, it can now be found growing on every continent except Antarctica. The Chinese Elm was brought to Europe in the late 18th Century, and to America in the mid 19th Century. Because it is highly resistant to Dutch Elm Disease, the Chinese Elm is popular in Europe and America as a replacement for native Elm trees killed by the disease.
In many places, including Southern California, the Chinese Elm has gone wild, becoming a transplanted native. In Southern California wild Chinese Elms can be seen growing along some highways, notably Interstate Five in Southeastern Los Angeles County.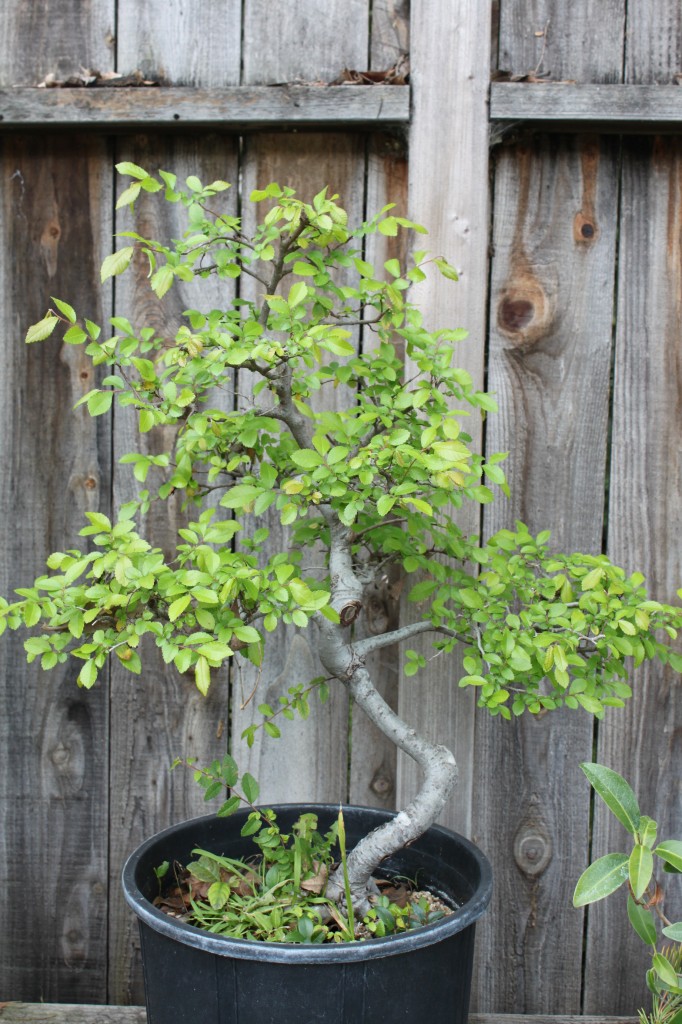 Where to Get One:
While it would seem that a lot of Chinese Elm bonsai would be created from discarded landscape trees, this is not the case. The Chinese Elm is very fast growing, and by the time most folks think to remove one from the landscape, it is too large for bonsai. For this reason, most Chinese Elm bonsai with thick trunks are trees that have been purpose grown in a large tub or a growing bed. You can buy a Chinese Elm from a nursery, or grow one or more from seeds. Germinating Chinese Elm seeds is very easy. A Chinese Elm seedling can grow six feet in one year. You can develop a thick trunk easily in three or four years.
What to Do With It After You Get It:
If you have purchased or been given a Chinese Elm "mallsai," the first thing you should do is repot it in good bonsai soil. Chinese Elms thrive in a soil that is about 60% aggregate and 40% organic matter. The aggregate can be decomposed granite, pumice, coarse sand, or fired clay pellets (automotive spill absorbent or kitty litter) or akadama, or any combination of the above. The organic matter can be just about any commercially available potting soil, as most of them are entirely made up of organic compost.
If the Elm you have is not big enough or thick enough for the bonsai you want, don't worry. Give it enough soil, water and fertilizer, and a modicum of sunlight, and wait a few months. It will be. These things grow like weeds after a rainstorm. They grow a foot or two the minute you turn your back. Asking if these grow fast is like asking if Kim Kardashian does commercial endorsements. Your worst problem won't be getting one big enough for a bonsai, it will be stopping it from growing out of its shape after you make it into a bonsai.
Grow your elm until the lower trunk and the root base is to your liking, without worrying about what is going on above. When you get the right size and shape for the lower third of your tree, chop it back (preferably in early spring). Chinese Elms have a natural tendency to send out long linear shoots, so you have to induce branching by pruning. Keep this in consideration as you develop the tree. Prune where you want branches, wire to shape, and then prune to build density.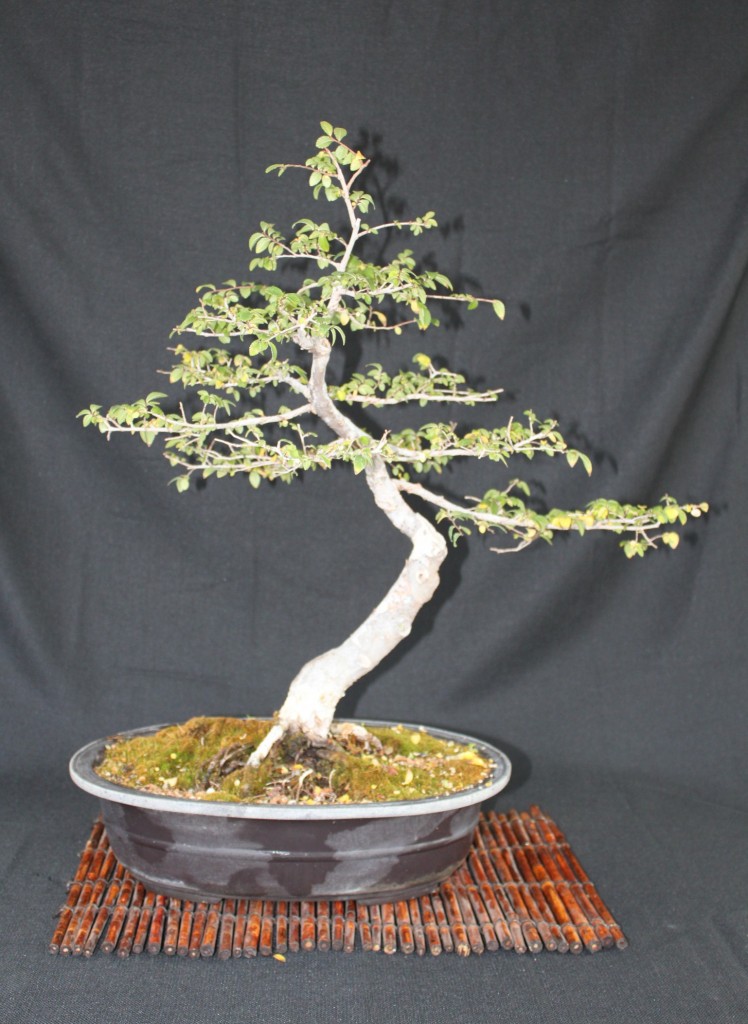 Soil and Potting:
These trees aren't picky. You could pot one in the mud from under your garbage can and it will grow well. In fact, it might like it if enough organic matter has leaked out of your garbage can into the soil. Seriously, if you pot these in good bonsai soil, they grow like dandelions in April. A good mix is sixty percent aggregate such as coarse sand or decomposed granite, and forty percent organic matter. If the trunk is thick enough, put it in a bonsai pot. If you want it thicker, put the tree in a large tub and wait a season or two. Don't put one in the ground unless you are seriously going to take it back out after a year or two. And don't put it in the ground near your house or near the edge of your property. About the time you notice you have a new shade tree you will need to call a plumber.
If you are shopping for bonsai pots, you have some choices to make, depending on where you live. Some vareties of Chinese Elm, such as Seiju, will show fall color if the winter nights are cold enough. The leaves tend to turn a nice buttery yellow. If your Chinese Elm bonsai does this, then you can pot the tree in a glazed pot with a blue or cream glaze. However, if you are in a location where your elm keeps most or all of its leaves, or if they tend to just turn brown, then the preferred pot for a Chinese Elm bonsai will be a brown unglazed pot. In general, Chinese Elms favor oval shaped pots due to the delicate nature of their leaves and branching. However, it may be permissible to use a rectangle or even a square pot for a specimen with an extremely heavy trunk.
Pests and Diseases:
Chinese Elms are resistant to Dutch Elm Disease, but not invulnerable. About the only other real threat they face is from black spot fungus, particularly if they are faced with a lot of wet weather. You can treat black spot with fungicide, or through defoliation.
Growth and Pruning:
A healthy Chinese Elm will push five or six leaf nodes in a quick flush of growth. When they do this they should be pruned back to two or three nodes. Large branch pruning should be done in the early spring. Pruning scars generally do not need to be covered with pruning seal or cut paste. Elms tend to be quick at healing over scars, to the point that if you create a trunk hollow, the tree will close it over after a period of several years.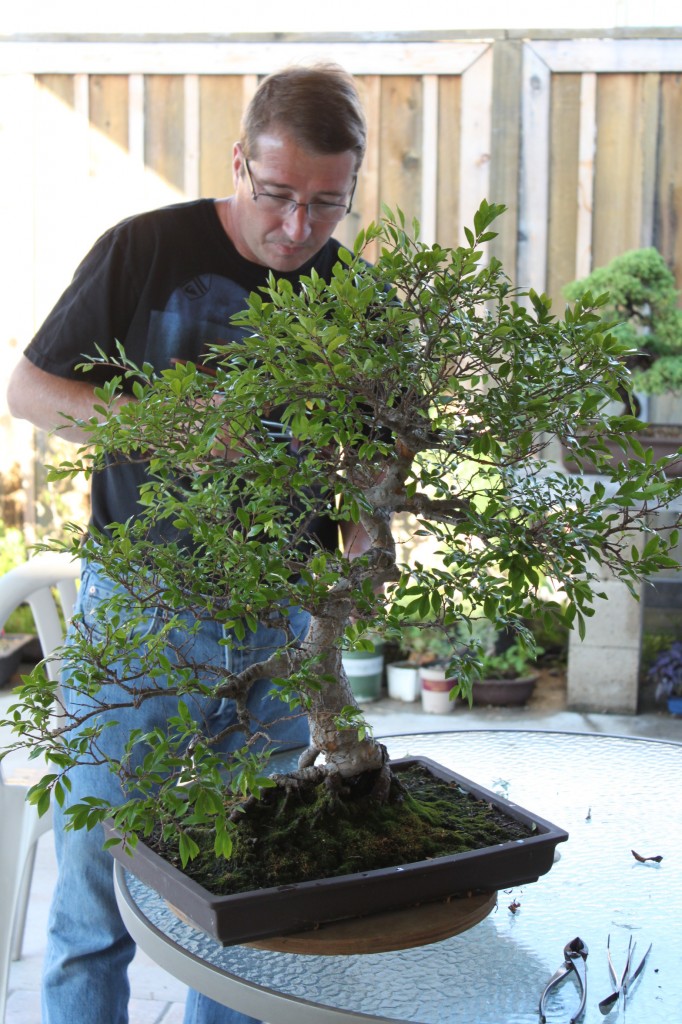 Shaping:
Chinese Elms respond well to being shaped either by pruning or wiring. The general rule is to wire everything thin enough to bend, and shape anything too thick to bend by pruning. Wiring can be done any time during the growing season, but the rule is either wire loosely or watch the tree carefully. Because they grow so quickly, the wire can "cut in" in a matter of weeks if applied snugly. Wire scars are very slow to heal on a Chinese Elm, so either leave the wire loose or make sure you can look the tree over carefully at least once a week.
Chinese Elms are suitable for just about every style of bonsai except formal upright. They do not grow with straight trunks in nature, and while it is possible to train a Chinese Elm with a straight trunk, such a trunk would have no taper. If you have your heart set on a straight trunk, a Chinese Elm can be grown broom style, and it makes a pretty good stand in for its close cousin, the Zelkova. Chinese Elms work really well as informal styles, since they grow this way in nature. They are great for groups since they are so easy to grow from seed, and they are often seen in tray landscapes.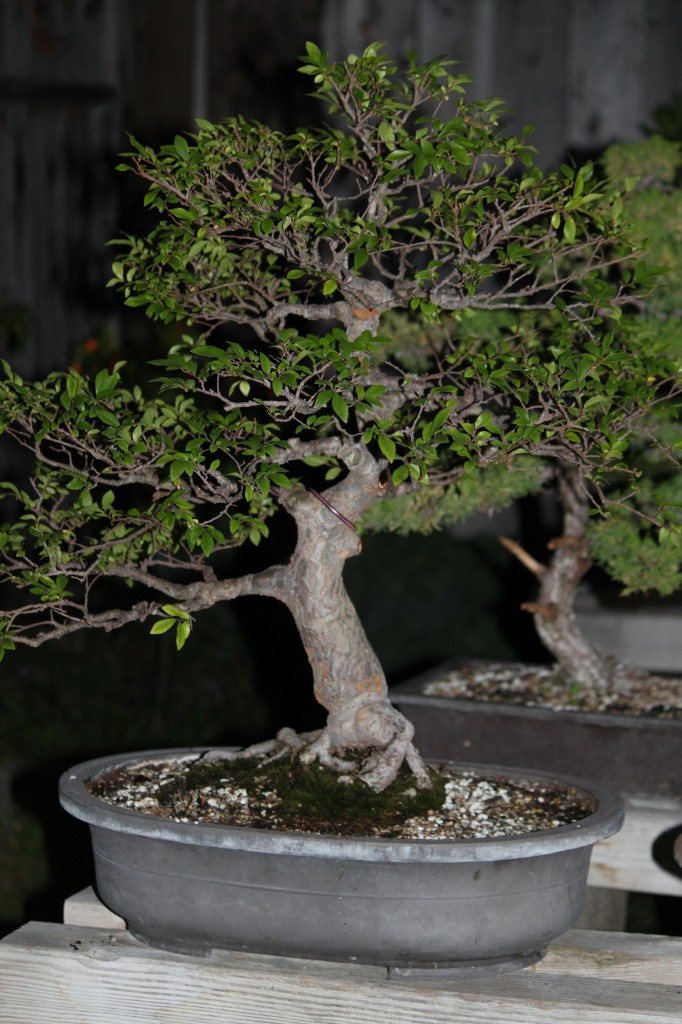 Closing Remarks:
If you follow the above guidelines, your Chinese Elm bonsai will give you many years of beauty and enjoyment.